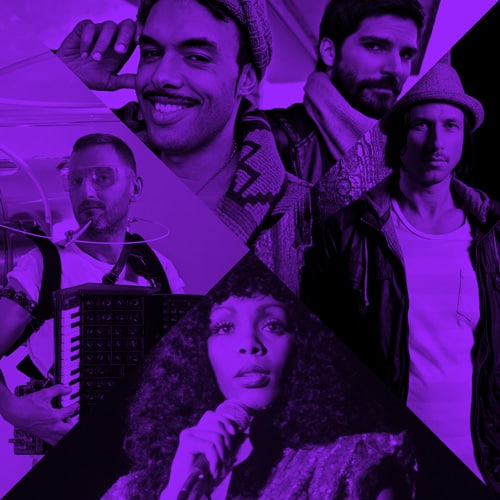 BY OCCUPY THE DISCO / TADEU MAGALHÃES
Manhooker: 'Pushin' & Shovin''
Berliners by choice, Tomasz "Guiddo" Switala and Sebastian "Mavin" Magassouba are Manhooker, a duo that very quickly have become an obsession of mine despite only releasing a couple of singles. Following their two hits 'Wheels in Motion' and 'Cloud 9,' released earlier this year, Manhooker keeps the great momentum up with 'Pushin' & Shovin'.' The new track is a delicious combination of acid house and jazzy elements, alongside the extremely sexy vocals by Mavin. The EP is available on Bandcamp.
Lukas: 'Narwhals'
Bristol-based label Futureboogie has provided us with instant classics like The White Lamp's 'It's You,' Terrence Pearce's 'Halcyon' and James Welsh's 'Craven.' Their latest release is a 4-track EP by Lukas, the man behind the infamous parties Alfresco Disco, which is also a record label. 'Narwhals,' the second cut on the record, is an infectiously uplifting track where bongos and a piano riff come together and leave you with no option but to dance.
Miguel Migs: 'Moving Sound (Deluxe Salted Dub)'
Super-producer Miguel Migs requires no introduction. This San Francisco deep house staple has been churning out high quality music for over 20 years now, with no signs of stopping anytime soon. This week, Miguel Migs and his Salted Music label shared their latest effort, 'Moving Sound.' The EP comes packed with three dub versions of the track and my pick is the 'Deluxe Salted Dub.' As one would expect from a Migs' release, there are jazzy organs, beautiful soulful vocals and move-inducing bass lines.
CONTINUED, AFTER THE JUMP…
Justus Köhncke: 'Tell Me'
While Justus Köhncke might not be as well known in the US, his work is very popular and respected on the other side of the pond, especially in his home country, Germany. Köhncke is known for his pop approach to house and techno, and recently collaborated with Hot Chip's front man Alexis Taylor on a new project called Fainting By Numbers. As he prepares for the release of his newest album in the upcoming months, we get a glimpse of what's to come with 'Tell Me,' a house track that differs from many of the songs we share on this column – it features drier beats, minimal vocals (by Eric D. Clark), trippy synths and a more repetitive, slow-build structure, typical of German productions.
Donna Summer & Giorgio Moroder: 'La Dolce Vita'
Oh boy, where to start? We have been counting the seconds to the release of Donna Summer's remix album which will feature re-works by Frankie Knuckles, Eric Kupper, Masters At Work, Duke Dumont, Hot Chip, Holy Ghost!, Gigamesh and others. In addition to the remixes, the compilation will include a highly anticipated unreleased track by Donna, called 'La Dolce Vita,' which just happens to be a collaboration with the father of disco, Giorgio Moroder. Moroder, as you should know, is responsible for producing 'Love To Love You Baby' and countless other classic songs and soundtracks, as well as for spawning a revolution in music by creating a dance track entirely with synthesizers in 1977 – Donna Summer's 'I Feel Love.' Love To Love You Donna is out next week on October 22nd.
Follow us on Spotify!  Subscribe to our 'As Featured on Towleroad' Playlist to listen to tracks posted from past weeks.
For more information on OXD, check out our website and accompanying blog at www.occupythedisco.com, like us on Facebook, or follow us on Twitter: @OccupyTheDisco.