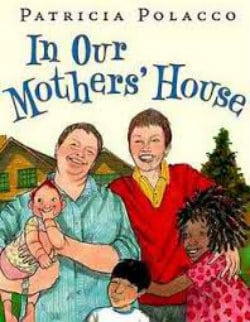 Joshua Block from the American Civil Liberties Union blog recently reported that despite the recent Supreme Court and stateside victories in favor of marriage equality, "books about LGBT people and their families remain one of the biggest targets of censorship in school classrooms and libraries."
Each year, the American Library Association compiles a list of books that have been the most frequent targets of censorship in classrooms and libraries, and almost every year one of the books on that list is And Tango Makes Three, a children's book about two male penguins that find an abandoned egg and raise a penguin chick together. Another frequent target of censorship is The Family Book, which as part of a survey of many different types of families includes a single page stating "some families have two moms and two dads." And just this past year, the ACLU and the ACLU of Utah had to take a school district in Utah to court to overturn the school's decision to pull a book about a family with two moms, In Our Mothers' House, from the school library shelves. The book had originally been yanked from the shelves because a group of parents complained that it "normalized a lifestyle that we don't agree with."
Block adds that "(banning books about LGBT families) only serves to stigmatize these students and their families as something dirty or shameful. Libraries should reflect the diversity of all kinds of ideas — and all kinds of families."
2013 marks the seventh year that the book And Tango Makes Three has made the ALA's banned books list. The book's gay authors had a child of their own back in 2009.