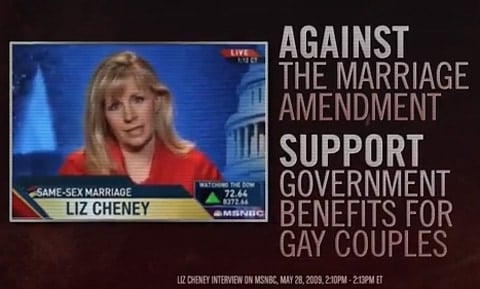 Liz Cheney's campaign team wants that new television attack ad claiming she supports same-sex marriage to be removed from broadcast schedules. The tv spot, funded by right wing super PAC the American Principles Fund, began airing in Wyoming earlier this week.
The U.S. Senate candidate's team has sent letters to several television stations in the region asking them to pull the ad.
Caspar Star-Tribune reports that the PAC's own team has not wasted any time with a response to Cheney's request.
Legal counsel for the American Principles Fund, the conservative super PAC funding the ad, sent a rebuttal to operators and stations that received a letter from the Cheney campaign. The super PAC's legal counsel claimed every aspect of the ad was correct and all facts were available for the public to see.

"In making these statements, the (Cheney letter) attempts to divert the station's attention away from the actual text of the Advertisement, all of which is entirely supported by the public record," wrote American Principles Fund attorney Douglas Chalmers Jr. "Indeed, the principle (sic) source for the advertisement is Ms. Cheney's own recorded words, as broadcast on national television."
Read the full rebuttal letter by the American Principles Fund here.
The ad has not been pulled and is still scheduled to run through next week. In case you missed it the first time, watch it, AFTER THE JUMP.