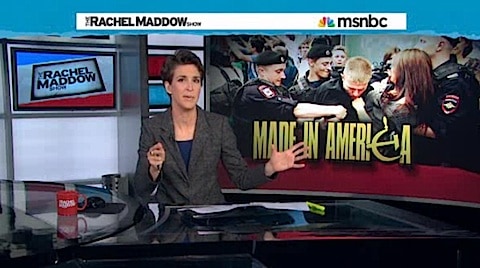 Rachel Maddow last night launched into a condemnation of Russia's anti-gay adoption laws, and the country's next plan: to take children away from gay parents.
Maddow then looks at the anti-gay American activists that are throwing their full approval behind what Russia is doing – wingnuts like Bob Van Der Plaats, Bryan Fischer, and, more specifically, NOM's Brian Brown, who, as Towleroad has reported, traveled to Russia to collaborate with lawmakers there in support of the anti-gay laws.
Brown has been accused of violating the U.S. Logan Act by making this trip.
Maddow then makes note of Brown's scheduled speech today at the Values Voter Summit, and the top-level Republicans that are offering their blessing to this anti-gay collaborator.
Watch the excellent segment, AFTER THE JUMP…
Visit NBCNews.com for breaking news, world news, and news about the economy