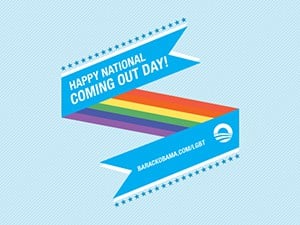 GLAAD releases annual list of best and worst TV networks for LGBT inclusion. Fox is at the top with TBS and History at the bottom.

Shia LeBeouf shows us his 'O' face.

The tighty-whities worn by Bryan Cranston in the pilot episode of Breaking Bad just sold for $9,900 at auction.

New York Comic-Con apologizes after hacking attendees' twitter accounts.

Alexander Skarsgard plays a cult leader in the music video for Cut Copy's "Free Your Mind." Correction: a sexy cult leader.

In case you missed it, it's National Coming Out Day! Twenty-six years ago, half a million people marched on Washington, DC for LGBT equality. President Obama tweeted his support today: "Today is a day to celebrate being who you are."

Polish archbishop says divorced parents are partly to blame for pedophilia: "Many of these cases of (sexual) molestation could be avoided given a
healthy relationship between parents," Archbishop Jozef Michalik, head
of Poland's Episcopate told the Polish PAP news agency in Warsaw. "We
often hear that this inappropriate attitude (pedophilia), or abuse,
manifests itself when a child is looking for love…It (the child)
clings, it searches. It gets lost itself and then draws another person
into this."

The Washington Post had a little fun with a Tea Party devotee on Twitter.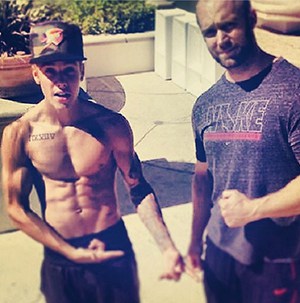 What you need to know if you are HIV+ and looking to sign up for healthcare now that Obamacare has arrived.

Justin Bieber does the shirtless, post-workout Instagram selfie thing.

Benedict Cumberbatch looking nicely bespoke.

Beefcake no more for underwear giant 2(x)ist? Company executive: "We are giving the models an identity, so they are not just a piece of meat."

NYC Police hunt for man suspected of committing a hate crime but who was released because of insufficient evidence after his initial arrest: "Brooklyn resident Ivan Pabellon, 35, was accused of beating David
Jimenez, 40, last month while yelling anti-gay epithets. Jimenez, who was
walking his dogs at the time, received a broken nose and black eyes in
the assault."

T-Mobile eliminates international roaming fees.

New trailer for Monuments Men, starring Cate Blanchett, George Clooney and Matt Damon, hits. The movie follows art historians in WWII trying to recover stolen works of art from the Nazis before Hitler can destroy them.

Colton Haynes does his take on 'Drake Hands.'

The Argentinian government granted a six-year old transgender girl an ID card that corresponds with her gender identity.