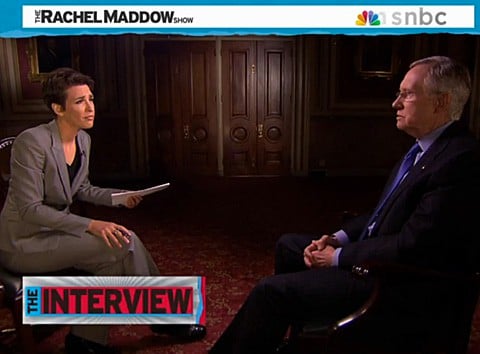 Rachel Maddow interviewed Senate Majority Leader Harry Reid about the chances to pass the Employment Non-Discrimination Act, which appears headed to the floor as early as next week.
The gist of Rachel's segment: "Are there any more Republicans who do not support discrimination against gay people?"
As of this week (following Joe Manchin's commitment), every single Senate Democrat is on record in support of the bill. Four Republicans – Kirk, Collins, Murkowski, and Hatch – voted for the bill in committee so they're likely on board as well.
Reid expressed confidence that the bill would pass the Senate "I think, without question, we're going to get at least five Republicans. ..I think we're beyond hard votes. Easy votes. This is fairness….Why wouldn't we do this?"
Watch, AFTER THE JUMP…