The North Carolina Family Policy Council expressed concern after North Carolina Attorney General Roy Cooper came out for marriage equality over the weekend, the AP reports: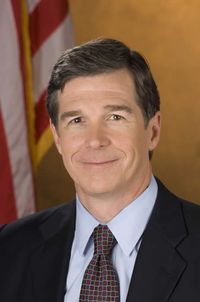 Attorney General Roy Cooper says he supports gay marriage but argues his personal views aren't preventing him from vigorously defending North Carolina's constitutional amendment affirming its prohibition from a lawsuit.
Cooper opposed passage of the amendment in 2012 but hadn't addressed his views on sanctioning gay marriage publicly until now. He said over the weekend "I support marriage equality" when asked by The Associated Press about the topic.
The NCFPC sent out a freaked-out press release on Friday:
Attorney General Cooper is actually the lead defendant in the ACLU lawsuit that is attempting to overturn North Carolina's marriage statutes and Marriage Protection Amendment and redefine marriage in our state. Yes, you read that right, the lead defendant, not the lead plaintiff.
So why is our Attorney General, who is charged with defending the laws of our state, and who is the lead defendant in a lawsuit that is seeking to overturn the definition of marriage in North Carolina – both in state statute and in the N.C. Constitution – participating as the keynote speaker for a group that has such an explicitly expressed and vested interest in redefining marriage in North Carolina?
At the very least, the Attorney General's participation in this event is highly inappropriate!