Man with iPhone discovers lesbian couple buried in Atlanta's Oakland Cemetery.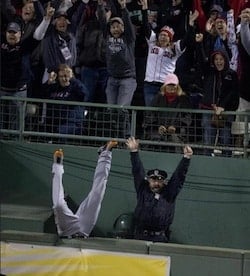 Baseball photo of the year?

VIDEO: Chihuahua loves Vampire Weekend.
R

io de Janeiro holds its Pride: "A hot tropical sun beamed down on Sunday's flamboyant and loud procession. Participants in Carnavalesque outfits danced as trucks outfitted with enormous speakers blasted driving electronic music. Rio's pride parade isn't Brazil's largest. That distinction belongs to the event held in Sao Paulo. But the gathering arguably the country's wildest, taking place in a city that throws its arms open wide to any event offering a glitzy show."

British man dies after overdosing on caffeine breath mints: "John Jackson, 40, reportedly didn't know that each Hero Instant Energy Mint contained 80 mg of caffeine — the same as a can of Red Bull. The Birmingham painter and decorator bought a $6.40 tin of 12 tabs, which are sold alongside normal sweets and mints in shops across the country."

Bottle of dry ice explodes in LAX bathroom.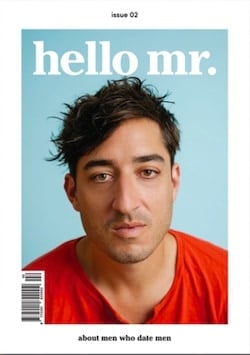 Brooklyn-based magazine for men who date men, Hello Mr., is out with its second issue.

Elephants understand pointing: "Of course, we always hoped that our elephants would be able to learn to follow human pointing, or we would not have carried out the experiments. What really surprised us is that they did not apparently need to learn anything. Their understanding was as good on the first trial as the last, and we could find no sign of learning over the experiment."

Zac Efron redirects the focus.

Gay UK serial killer speaks out about his first crime 23 years ago. "He claims all four deaths at his hands happened by accident when he was threatening his victims not to reveal his sexuality."

Sunday Times hid lawmaker's HIV status: "Britain's first openly gay MP Lord (Chris) Smith of Finsbury, has spoken up on the difficulties he faced coming out about his HIV status, revealing that the Sunday Times had agreed not to publish any stories on the matter for two years until he was ready."

Male model fix: Henry Watkins.

No new music from Frank Ocean until Summer 2014.

Jake Gyllenhaal is looking clean-shaven and slim for his new role.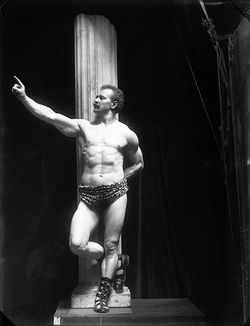 The world's first beefcake pin-up?

Gay dad swag.

The Presbyterian Church in Vanuatu wants to ban same-sex marriage: "We sent a statement that we produced last week for the minister for internal affairs. And we are requesting internal affairs to come up with some kind of policy. We need some immediate guidelines to guide our people here while waiting for the government. to put in legislation that would ban all these practises in Vanuatu."

"Ex-gays" demand Virginia universities offer conversion therapy options: "So the question becomes, When is it appropriate for a public university to offer information about a thoroughly discredited belief?"

Miss Manners on terms for gay married couples: "A married male is a husband and a married female is a wife, just as two male parents are both fathers and two female parents both mothers.
Please don't make trouble. Miss Manners is still weary from the emotion-laden battles over designations for couples who are not married. Perhaps 'partner' is not the best solution (because it also describes a business relationship), but it is better than the explicit, overly cute or puzzling terms that were being suggested.
At any rate, it is now generally understood: 'partners,' unmarried; 'husband' and 'wife,' married. Using any other terms for legally married same-sex couples would appear to cast doubt on their status and throw them back into the partner category."