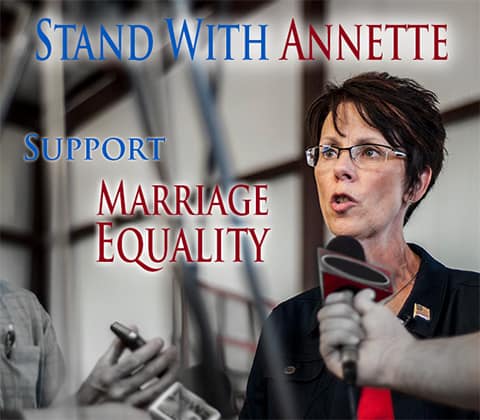 Nebraska State Senator and candidate for Governor Annette Dubas has come out as a proponent of gay marriage, The Lincoln Journal Star reports. The Democratic hopeful from Fullerton, Nebraska shared that it was her brother's coming out 26 years ago that set her on the path towards embracing marriage equality:
"I came to realize I support marriage equality awhile ago," Annette Dubas says. "It's not an abstract idea to me." […]
She says she is talking about same-sex marriage because it's an issue she doesn't want to skirt.
She says she is talking about same-sex marriage because she wants to elevate the subject, because there is still fear about coming out in small Nebraska towns, because having a gay brother changed her.
She says she is talking about same-sex marriage because she's proud of that brother.
"If people make questionable remarks about the GLBT community, I let them know they are talking about my brother."
Dubas' brother, Martin Steele, who now lives in San Francisco with his partner Kurt Smith, shared his painful coming out story with The Journal Star. For many years, he used alcohol and drugs to cope with the pain of growing up gay in small town Nebraska, eventually coming out to his sister at 23. "She doesn't know this, but she saved my life," said Steele. Dubas for her own part was honest about her reaction to her brother's confession, one that evolved from shock and confusion to acceptance and embrace.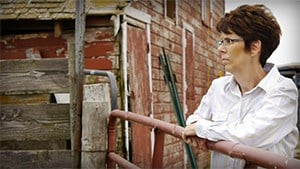 [Dubas] doesn't believe being gay is a sin, or a choice.
"I didn't decide growing up I was going to be a heterosexual."
She believes, for her grandchildren's generation, same-sex marriage won't be an issue.
She believes society isn't there yet. She knows people are still afraid.
And she's seen how destructive it can be when someone denies a part of themselves. Destructive to them, and to their families.
"I know I represent lots of families across the state who feel like they can't talk about it publicly."
She can be their voice, she says.
Dubas has received 14 endorsements from Democratic lawmakers in the run-up the Democratic primary in May. She will face off against former University of Nebraska Regent Chuck Hassebrook. You can check out her Facebook page HERE.