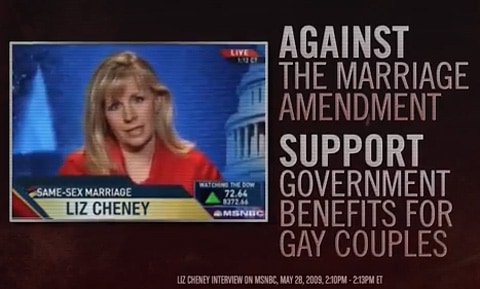 The American Principles Fund PAC has begun running an ad in Wyoming targeting Liz Cheney's run for the U.S. Senate, the L.A. Times reports:
The spot features clips of Cheney from a 2009 appearance on MSNBC — identified as "the go-to network for Barack Obama and Washington's liberal elites" — in which she expressed opposition to a constitutional amendment banning the marriage of same-sex couples and support for a State Department move extending benefits to the same-sex partners of Foreign Service employees.
The spot, which ends with the tag line "Wrong for Wyoming," takes a generous share of creative license. Cheney provoked a sisterly spat by declaring in August her opposition to same-sex marriage.
Said Cheney in August:
"I am strongly pro-life and I am not pro-gay marriage, [I believe] the issue of marriage must be decided by the states, and by the people in the states, not by judges and not even by legislators, but by the people themselves."
Liz's statement provoked her married lesbian sister Mary to respond on Facebook: "For the record, I love my sister, but she is dead wrong on the issue of marriage….Freedom means freedom for everyone. That means that all families — regardless of how they look or how they are made — all families are entitled to the same rights, privileges and protections as every other."
A tough sell in Wyoming.
Watch the anti-Cheney ad, AFTER THE JUMP…
Watch, AFTER THE JUMP…