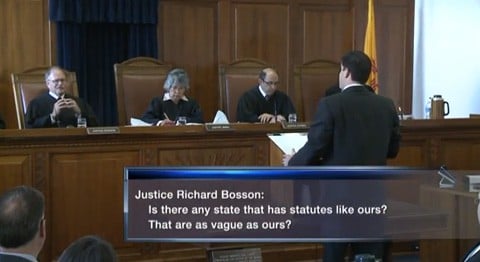 The New Mexico Supreme Court heard arguments on same-sex marriage yesterday.
KRQE has an excellent video report on marriage's day in court. Watch it, AFTER THE JUMP…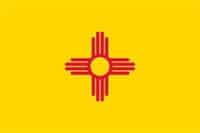 Reuters sums up the situation in New Mexico leading up to yesterday's historic hearing:
Currently eight New Mexico counties allow gay couples to marry, and more than 900 couples have filed for same-sex marriage licenses since clerks in those jurisdictions started issuing them in recent months, some voluntarily and some under court order.
At least two New Mexico judges have upheld gay marriage under provisions of the state constitution, including cases that apply to counties encompassing the state's largest city, Albuquerque, and the state capital, Santa Fe.
Meanwhile, a number of Republican state lawmakers have filed a lawsuit challenging the authority of the clerk of Dona Ana County, which includes the state's second-most populous town, Las Cruces, to hand out marriage licenses to gay couples there.
The debate reached a crescendo when all 33 county clerks in the state joined the American Civil Liberties Union and the National Center for Lesbian Rights in petitioning New Mexico's high court to decide the issue on a statewide basis.
KOB reports:
Attorneys on both sides of the issue spoke for an hour each and answered dozens of questions from the justices.
James Campbell, an attorney for those opposing gay marriage in New Mexico, cited studies about children needing a mother and father figure in the household. He said the legal definition of marriage is between a man and a woman.
Maureen Sanders, an attorney for same-sex marriage supporters, said all marriages need to be treated equally. She was also grilled with questions from the justices, one who even said New Mexico is "forced" to recognize out of state same-sex marriages.
On hand for the proceedings were plaintiffs in a lawsuit demanding the freedom to marry in New Mexico, Senator Bill Sharer, who has called gay men "whores" and "things" and has been leading the conservative charge against same-sex marriage, and Dona Ana County Clerk Lynn Ellins (below), the first of eight New Mexico county clerks to begin handing out same-sex marriage licenses.
The New Civil Rights Movement adds, of the arguments:
Arguments from the anti-gay side were predictably obtuse and irrelevant. The flawed and debunked anti-gay "parenting" study by Mark Regnerus was used to argue that marriage should be reserved for heterosexual couples. Other anti-gay arguments included "husband and wife means husband and wife," tradition, the institution of marriage must be protected and therefore gays shouldn't be allowed to marry, and marriage was designed to channel mankind's procreative powers — a situation that gay and lesbian couples don't have to worry about.
Other preposterous claims were made, including that LGBT people have extraordinary political power and therefore don't need the courts to intervene, and that either the people or the legislature should decide the issue of marriage. Ironically, when the court took a short break, one attorney not realizing the cameras were still live, quipped that if the legislature passed marriage equality, the issue would till return to the state Supreme Court.
The Supreme Court is not expected to rule immediately and could take a few weeks to issue a ruling.
KRQE has an excellent video report on marriage's day in court.
Watch it, AFTER THE JUMP…