MSNBC anchor Thomas Roberts gives an interview to The Advocate in which he asks people to have "a little more faith in me" regarding his decision to host the Miss Universe pageant in Moscow.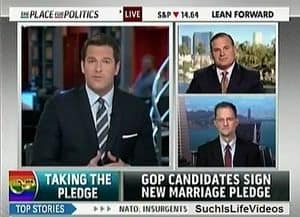 Says Roberts:
I consulted with the [Human Rights Campaign] and with GLAAD. I wanted to find out their take on what they thought about this decision by me. They are two organizations that I have done a great deal of work with and that have not only had my personal support but professional support. So a lot of counsel, a lot of advice, went into this. Certainly great LGBT activists, who are mentors of mine — I reached out to them as well. So, I am a little dismayed at some of the reaction that people have had, that have wanted to try to attack my personal and professional belief for what I'm standing up for, but I respect their right to do that. But I wish they would have a little more faith in me.
As for critics that say he's doing it for the money, he adds:
I mean, I show up to work every day, and we still work in a country where there are gay and lesbian people who can be fired every day at work. In 33 states you can be fired based on gender identity, 29 states they explicitly prohibit discrimination based on sexual orientation; we have the Employment Non-Discrimination Act languishing in Washington, D.C., and has for decades.  So that's silly, that would be like telling all of these bloggers and reporters and everyone else, don't show up to work in the United States. And nobody boycotted last year, when Miss Universe was held in Las Vegas, and we hadn't had decisions on marriage equality by that point. And I think that we had just gotten out from "don't ask, don't tell," but nobody was asking for a boycott of that, so it's interesting to me. I find it very interesting that people would take this tone with me.
Read the full interview HERE.