National Organization for Marriage President Brian Brown is, of course, infuriated that marriages are taking place in New Jersey and supremely pissed that Governor Chris Christie has given up the state's battle against same-sex marriage by withdrawing his appeal of the Supreme Court's ruling.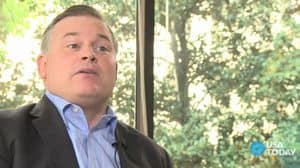 Writes Brown in a blog post:
"There's no question that the courts of New Jersey are responsible for the imposition of same-sex marriage in that state, and we sharply criticize them for redefining our most important social institution with no regard to the wishes of voters or even elected officials," said Brian Brown, NOM's president. "The refusal of the New Jersey Supreme Court to order a stay of the same-sex 'marriage' ruling was wrong, and the latest example of an activist judiciary running amok, substituting their views for those of the people of the state. Still, we are extremely disappointed in Governor Chris Christie for withdrawing the state's appeal of the underlying decision, effectively throwing in the towel on marriage. The mark of a leader is to walk a principled walk no matter the difficulty of the path. Chris Christie has failed the test, abandoning both voters and the core institution of society – marriage as the union of one man and one woman."
A superior court judge had imposed same-sex marriage in New Jersey in a ruling in September, with same-sex 'marriages' set to begin today. Christie's administration appealed the decision and sought a stay to preserve the status-quo until the merits of the case is heard next year. The New Jersey Supreme Court denied the request for the stay, and today Christie dropped his appeal of the underlying decision imposing same-sex marriage.
"It's a sad day for the voters of New Jersey," said Brown. "An activist judiciary has once again imposed its views and ignored the rights of voters. We will continue to fight for the right of New Jersey voters to determine the definition of marriage. Regrettably, Governor Christie's decision to surrender on marriage reveals him to be a man who lacks the courage of his supposed convictions. As far as we are concerned, it's a disqualifying failure. His surrender on marriage effectively surrenders any chance he might have had to secure the GOP nomination for president."