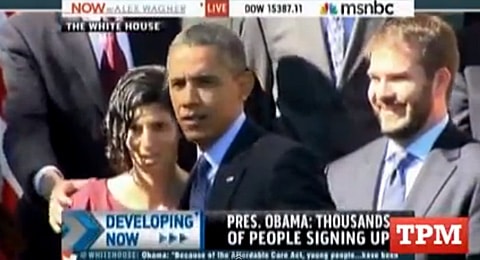 President Obama spoke about problems with the website for the Affordable Health Care Act in a speech from the Rose Garden today:
"We did not wage this long and contentious battle just around a Web site. That's not what this was about," Mr. Obama told supporters during 25-minute remarks in the Rose Garden.
The president acknowledged that HealthCare.gov had not provided the easy opportunity to sign up for health insurance that White House officials promised for months. But he said that some people had managed to get insurance, and he urged critics of the law to support it.
"It's time for folks to stop rooting for its failure, because hard-working, middle-class families are rooting for its success," he said.
Near the end of the speech the President came to the assistance of a woman behind him who was clearly getting ready to faint.
"This is what happens when I talk too long," the President said.
Watch, AFTER THE JUMP…