The New York Times takes an in-depth look in today's Sunday Style section at same-sex couples who are in loving, committed, long-term relationships who, despite being afforded the right to marry, thanks to the destruction of DOMA section 3 and the increase in the number of states allowing same-sex marriage, choose not to: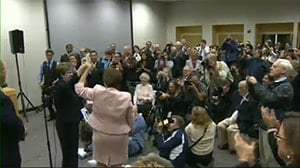 For some, marriage is an outdated institution, one that forces same-sex couples into the mainstream. For others, marriage imposes financial burdens and legal entanglements. Still others see marriage not as a fairy tale but as a potentially painful chapter that ends in divorce. And then there are those for whom marriage goes against their beliefs, religious or otherwise.
"It's a very, very archaic model," said Sean Fader, 34, an artist in New York who is single and asked to be identified as queer. "It's this oppressive Christian model that says 'Pick a person that's going to be everything to you, they have to be perfect, then get a house, and have kids, and then you'll be happy and whole.' "

Indeed, despite the rush to the altar we've seen after the Supreme Court rulings on Prop. 8 and DOMA and more recently after the New Jersey state supreme court ruled that same-sex marriages must be allowed to begin in the Garden State despite Governor Christie's opposition, same-sex couples are less likely to seek out marriage, according to a new Pew Research Poll released in June that found "60 percent of lesbian, gay, bisexual and transgender adults are married or said they wanted to marry, compared with 76 percent of the general public."
The Times also notes that not all LGBT activists have been so keen to focus on pushing for marriage equality when HIV/AIDS education and prevention along with securing the safety of LGBT youth are issues that, in the eyes of some, have been under-served and even ignored by the community at large.
The reluctance to marry also seems to span across generations:
"For people in the '60s, '70s and '80s, there was a feeling that L.GB.T. people can do better than marriage, that relationships can be more egalitarian" when built around untraditional families, said Mary Bernstein, a professor at the University of Connecticut and an author of "The Marrying Kind?" which examines the marriage debate in the gay rights movement.
Milennials on the other hand may consider themselves "a very disillusioned generation," as Eric Routen, 24, a student at New York Medical College, put it, less willing to take a chance on marriage because, "No one expects marriage to last."
Check out the full piece from The Times HERE.