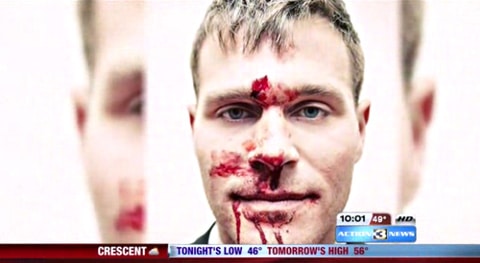 Ryan Langenegger, an Omaha man, was beaten over the weekend after sticking up for his gay friends, KMTV reports:
Out with two of his gay friends in the Old Market Saturday night, they decided to grab a bite at PepperJax Bar and Grill. Inside a group of three guys started to verbally harass his friends. Ryan said, to avoid confrontation they left PepperJax.
 
The three men followed them outside.
 
"My friend then said, yes, I know I'm a boy in a dress. After that he said, "yes I know", some "colorful words" and disgusting. I said hey guys, we're not looking for any trouble, just trying to get home. Just trying to get home", said Langenegger.
 
Ryan stepped forward and tried to stop the incident. Instead he took a hard blow to the face.
Watch KMTV's report (autoplay), AFTER THE JUMP…