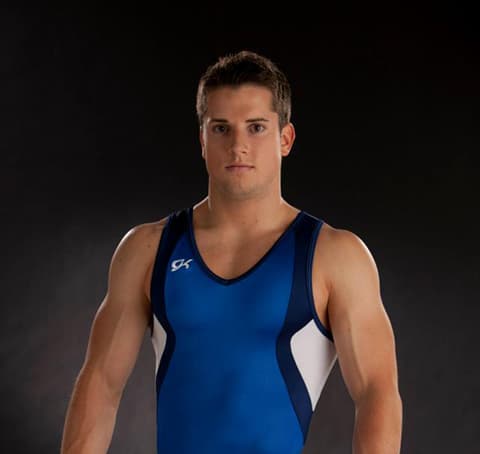 Back in August, out gay gymnast Kalon Ludvigson, America's most decorated Trampoline & Tumbling athlete in history, suffered a serious injury while training at a gymnastic camp for kids in Pennsylvania that left him paralyzed from the elbow and chest down. From USA Gymnastics:
Ludvigson, who sustained a cervical spine injury during training on August 6, dislocated his C5 vertebrae at C6, causing spinal cord compression. This spinal cord compression and stretch injury has left him with multiple neurologic symptoms, many of which have shown improvement to this point. He has movement of his upper extremities, as well as improving sensation of upper and lower extremities. Ludvigson is still challenged without movement to his lower extremities, and therapy continues with the goal to further improve his fine motor skills of his upper extremities.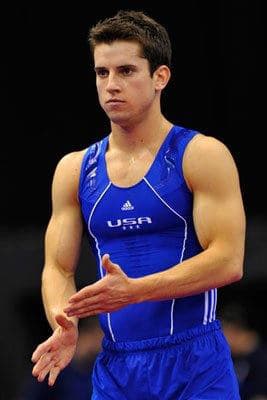 A gymnastics wunderkind, Kalon first joined the US gymnastics team nine years ago at 16, becoming the youngest member on the team. He holds 20 World Cup and World Championships Medals and set the World Record for Difficulty in 2008 and 2011.
In September, Kalon was moved to Craig Hospital, a rehabilitation center in Englewood, Colorado that specializes in treating patients with spinal injuries. After two surgeries he has shown signs of improvement and has "begun feeling his toes, feet and legs, but he has not regained movement as of yet." While the future is uncertain for Kalon, his friends, family and supporters remain hopeful:
"We realize Kalon's friends and teammates want to know his long- and short-term prognosis," said Dr. George Drew, USA Gymnastics trampoline and tumbling team physician. "These types of injuries are extremely variable, both in the amount of recovery and the time required to do so. Kalon is in excellent physical condition and is blessed with the support of his friends and family to take this recovery to its best possible result. We are all very happy he is at Craig Hospital, one of the foremost spinal injury recovery centers in the USA."
Said Kalon's coach and husband Justen Millerbernd (pictured below) of Kalon's recovery: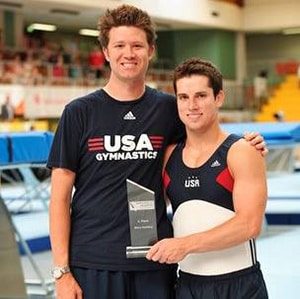 "Kalon is improving on a daily basis…but no major breakthroughs have happened yet. There is still a lot of time for even a small change to happen. Kalon is working hard and pushing through obstacles every day."
Kalon himself spoke out, thanking his supporters for their encouragement:
"I want to thank everyone for the love and support they have shown during this difficult time," said Ludvigson. "The messages, thoughts and prayers mean so much and is so appreciated."
Unfortunately, Kalon has had to battle not just his injury but also his insurance. For that reason Millerbernd has created a GoFundMe campaign to help raise money for his husband's recovery. You can contribute to help Kalon HERE.
You can also watch a news report about Kalon's injury AFTER THE JUMP…
(Photos via Facebook)