New momentum for ENDA as Senate vote nears…

100 days to Sochi: Opposition encroaches on Putin's $48 billion Olympics.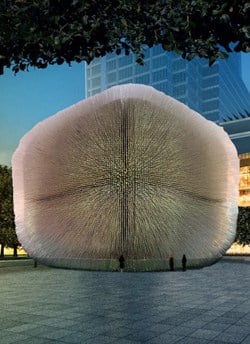 British artist Thomas Heatherwick, who created the UK pavilion at the 2010 Shanghai World Expo (pictured), will create a colossal sculpture in the public plaza of NYC's Hudson Yards.
C

hris Brown enters rehab.

NOM links same-sex marriage to incestuous marriage.

Kanye West, whose plain white t-shirt sells at A.P.C. for $120, complains that the prices at Louis Vuitton are too extreme.

Scientists see Earth's plates splitting, via satellite imagery.

Roll Call: Gay Republicans hold out hope for a Grand Old Party. "At its core, the Tea Party movement is about conservative fiscal policy — something Log Cabin Republicans [fight] for as well," Angelo said via email, adding, "If we consider each other allies against the Democrats instead of 'factions' in a party fighting each other, we'll thrive."

The Jonas Brothers give weird interview about their breakup.

Entertainment Weekly at Ender's Game premiere: "When Hollywood sinks millions into the effort to adapt a beloved YA novel, the author is typically elevated to red-carpet celebrity, as big a star as the actors bringing his or her characters to life. But at Monday night's Ender's Game premiere at Los Angeles' TCL Chinese Theatre, Orson Scott Card was nowhere near a microphone or tape recorder."

The White House commemorates the fourth anniversary of the Shepard-Byrd Hate Crime Prevention Act: "Under the leadership of Attorney General Holder, the Criminal Section of the Civil Rights Division and U.S. Attorney's Offices around the country have used the law to address the most serious hate crimes. Over the last four years, 44 people in 16 states have been convicted under the Shepard-Byrd Act for their discrimination and crimes against others on the basis of race, religion, national origin, sexual orientation, gender identity or disability."

Richmond City Council votes to approve an ordinance granting spousal benefits — if Virginia's law eventually allows it.

Ashton Kutcher is now a "product engineer " at Lenovo.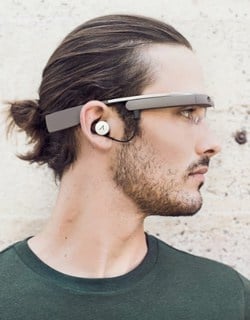 Google Glass gets a redesign.

VIDEO: Here's the new trailer for Martin Scorcese's Wolf of Wall Street starring Leonardo DiCaprio.

Scottish teacher fired after telling his students that "Hitler wasn't all bad – he killed the Jews, the gays and the disabled".

Augusta's only black gay nightclub is facing closure for admitting underage patron: "It's blatantly obvious what's going on when you have clubs with hundreds of incidents" that are allowed to remain open, while he faces revocation for one, Lowery said.
I

srael's centrist Yesh Atid Party introduces civil union legislation: "Israel has no civil marriages, and some experts estimate that in recent years a quarter of Jewish couples have chosen to either marry abroad or live together without marrying rather than adhere to the chief rabbinate's requirements for, among other things, proving Jewish ancestry. Hiddush, an Israeli group that promotes religious pluralism, recently placed Israel among the 45 nations in the world with "severe restrictions" on marriage; most of the other 44 are governed by Islamic law."