Lehigh County, Pennsylvania Commissioner Tom Creighton compared giving benefits to gay couples and "giving money out to people's pets" in his remarks promoting an amendment to the Lehigh County budget.  The amendment is meant to deny benefits for same-sex spouses employed by the county, Think Progress reports: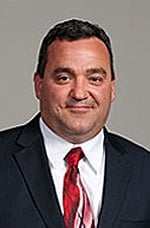 "The state has a ban on same-sex marriage, so why should the county be offering benefits for same-sex marriage?" Lehigh County Commissioner Tom Creighton asked. "I don't feel the county should be looking for new ways to give away taxpayer money. Next it could be giving money out to people's pets or whatever. No, it probably won't go that far."
Creighton made the remarks to promote his amendment to the Lehigh County budget, which would deny benefits to the same-sex partners of county employees "whose marriage is recognized in another state." Lawmakers has been hoping to expand benefits, which could cost the County "much less than $219,000."
Pennsylvania has a rich history of politicians who make unusual claims about same-sex marriage. The state's Department of Health and Human Services recently compared gay and lesbian couples to 12-year-olds and during his 2012 presidential campaign, Rick Santorum, a former Pennsylvania senator, likened marriage equality to a napkin, not a paper towel; water, not beer; tea, not basketball; a tree, not a car.
Though the comparisons can be amusing, especially coming from good ole' Santorum, you have to wonder when they will start to be challenged more vehemently in popular culture. Has Jon Stewart seen this? Someone should send it along.
What do you think? Are these kinds of statements too absurd to be taken seriously, or do they stand a chance of influencing people's opinions?