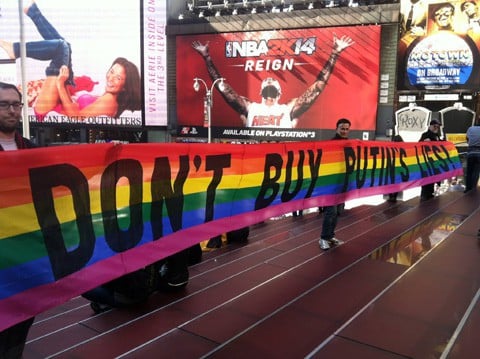 As we reported yesterday, the activist group Queer Nation was on hand today at the U.S. Olympic Team's promotional "Road to Sochi Tour" which kicked off today in NYC's Times Square. These shots were posted to the Queer Nation FB page and feature a 50-foot-long 'Don't Believe Putin's Lies' rainbow banner designed by Pride flag creator Gilbert Baker.
USA Today reported on the protest:
Yelling "Homophobia's gotta go" the protesters unfurled banners that said "don't buy Putin's lies " and "boycott homophobia" while Olympic and Paralympic hopefuls spoke to a crowd of bystanders, news media and sponsors….
…Though the group's chants occurred during opening remarks from several Olympians during a media session, it wasn't disruptive.
"We made our point," Osbourne said as the group began to dissolve after 30 minutes. "The public is being allowed in shortly and we don't want to scare any little kids with loud chants."