A coalition of LGBT activists in Russia sent a letter, via email and post, to newly elected International Olympic Committee (IOC) President Thomas Bach (right) requesting a meeting during his upcoming visit to Sochi. They have received no direct response from Bach and very little support by way of the IOC in general. Only spokesman Mark Adams gave a response (when asked directly by Buzzfeed), countering that "We have offered to meet Russian LGBT groups this week should they wish. We are always open for dialogue."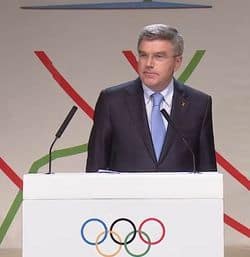 Buzzfeed reports:
"Russia's new so-called anti-propaganda law expressly announces inequality based on sexual orientation and is in direct violation of the Olympic Charter's requirement that 'any form of discrimination…is incompatible with belonging to the Olympic Movement,' the coalition wrote in the letter. "The purpose of our meeting would be to discuss ways the IOC can ensure the respect of the non-discrimination clause of the Olympic Charter and in particular defend the rights of LGBT athletes and visitors, for example by establishing a 'Pride House' as for the last two Olympics."
The letter — sent by email on Oct. 13 and followed by a formal request sent by post Oct. 22. — was signed by Anastasia Smirnova on behalf of the Russian LGBT Network, Side by Side LGBT Film Festival, St. Petersburg's Coming Out, the Russian LGBT Sport Federation, Arkhangelsk's Rakurs, and the OutLoud Project.
Human Rights Watch Director of Global Initiatives Minky Worden commented that "A meeting at any level other than Thomas Bach doesn't communicate the appropriate concern about the [anti-LGBT] law." An absence of response thus far is not for an absence of Bach himself, either. He arrived in Russia earlier than expected to meet with Vladimir Putin who assured him, as Towleroad previously reported, that "We are doing everything, both the organizers and our athletes and fans, so that participants and guests feel comfortable in Sochi, regardless of nationality, race or sexual orientation."
To read the LGBT activist coalition's letter in full, head on over to Buzzfeed.