In September, former presidential candidate Rick Santorum spoke at the Midwest Republican Leadership Conference about the GOP and social concerns. Of course, same-sex marriage was a popular talking point. Santorum is terrified that his own party may be getting on board.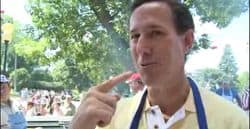 Right Wing Watch reports:
Blaming the shift in support for gay marriage on the television program "Will and Grace," Santorum said that Christians are now afraid of speaking out against it for fear of being called bigots and haters. Complaining that the DOMA decision ruled that people who oppose gay marriage do so only because they hate people who are gay, Santorum predicated that churches will eventually lose their tax-exempt status because of it.
"We have hate crimes in this country," Santorum warned, "for hate speech. It's coming."
Saying that "Christians are the most tolerant people in the world," Santorum claimed that Christian opposition to gay marriage is no longer being tolerated and declared that "for the Republican Party to even contemplate going along with this is the destruction of our republic."
Watch, AFTER THE JUMP…