Robbie Rogers' year just keeps getting better. Plans are in the works for him to co-write book about his life as an openly gay Major League Soccer star. Rogers posted a message on Facebook announcing the news:
"Soccer and writing are my two biggest passions. I am so lucky to be given the opportunity to write my memoir with Penguin Books. So many people helped me with my struggles while I was coming out, I hope this book will do the same for people who feel a bit like me."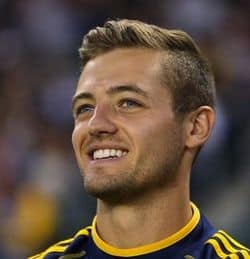 The official press Penguin Books release contains details of what to expect from the memoir, titled Coming Out To Play:
Coming Out To Play will tell the story of Rogers' hard-fought though ultimately triumphant transformation from a troubled, isolated child to a groundbreaking and praiseworthy professional sportsman- one who has mustered the courage to write and act upon the secret he held for years. Robbie has finally broken his silence: "Secrets can cause so much internal damage. People love to preach about honesty. Try explaining to your loved ones after twenty-five years you are gay. Life is only complete when your loved ones know you. When they know your true feelings, when they know who and how you love. Life is simple when your secret is gone. Gone is the pain that lurks in the stomach at work, the pain from avoiding questions, and at last the pain from hiding such a deep secret."

"In addition to being a soccer superstar, Robbie is poised to be a role model for a new generation of gay and lesbian youth," commented Patrick Nolan. "His courage to share his personal story will make it easier for others who follow. I am proud to be publishing his memoir."

Beyond providing compelling insights into the world of professional athletes, Coming Out To Play will be the first of its kind- a deeply personal account of what it's like to be openly gay in professional locker rooms, 60,000-seat stadiums full of raucous crowds, and a sports universe that's only now becoming hospitable to gay people.
Look for Penguin to publish the book as a paperback original sometime in late 2014.