A new Quinnipiac poll on the New York City mayor's race shows Democrat Bill de Blasio with a50-point lead over Republican Joe Lhota, the NYT reports: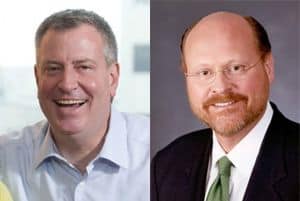 Mr. de Blasio, a Democrat, received the support of 71 percent of likely voters, compared with 21 percent for Mr. Lhota, the poll found. The Independence Party candidate, Adolfo Carrión Jr., received 2 percent.
The poll, conducted from Sept. 25 to Oct. 1, showed Mr. de Blasio, the city's public advocate, with a comfortable lead among white voters and an enormous one among blacks and Hispanics. Only 5 percent of likely voters remained undecided, and less than a tenth of those who favored Mr. de Blasio said there was a good chance they would change whom they supported.
Both De Blasio and Lhota have released the first campaign ads.
Watch them, AFTER THE JUMP…