State attorneys in Utah are defending their state's voter-supported same-sex marriage ban, Amendment 3, based largely on issues surrounding procreation and parenting ability. The defense comes after three same-sex couples filed a lawsuit in March seeking for District Judge Robert Shelby to rid the constitution of the amendment on grounds of unconstitutionality based on the 14th amendment's due process and equal protections clauses. Two couples, Derek Kitchen and Moudi Sbeity, and Laurie Wood and Kody Partridge, were denied marriage licenses in Salt Lake; another, Karen Archer and Kate Call, were married legally in Iowa but receive no recognition from their home state.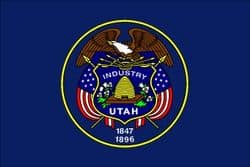 KSL Utah reports:
The state says the case doesn't turn on who is right and who is wrong about what marriage should be, but on who should decide. The Constitution does not prevent Utahns from defining marriage as between a man and a woman with children's interests at the forefront, the Utah Attorney General's Office argues.
"The resolution of this case will determine much more than whether marriage licenses will be issued to some same-sex couples. It will necessarily impact whether Utah or any other state can maintain the principle that children should be reared by a married mother and father whenever possible … "
According to the state, "the traditional definition of marriage rationally promotes legitimate state interests in promoting responsible procreation, and in promoting the optimal mode of child rearing, among others."
Peggy Tomsic, the couples' attorney, cited the Supreme Court decisions on DOMA and Prop 8 in her case against Amendment 3. She argued that Utah's lack of recognition for marriages outside the state is now unconstitutional, and that the negative rhetoric about parenting skill is damaging for children of same-sex couples and should be remedied by recognizing their marriages.
The purpose of the state's Amendment 3 was to "further privately held moral views that same-sex couples are immoral and inferior to opposite-sex couples," she wrote.
Damaging, indeed. After state and county officials had begun to show support in Pennsylvania, New Mexico of course, and even North Carolina, this news out of Utah is dispiriting. The case is set to begin on December 4th.