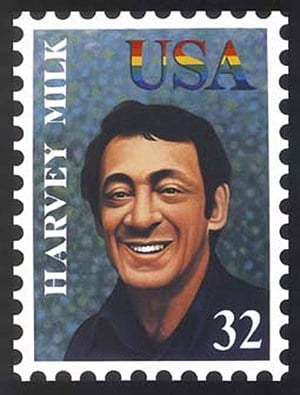 Earlier this year we reported on speculation that the United States Postal Service (USPS) might be getting ready to release a Harvey Milk stamp. A campaign advocating for a stamp in Milk's honor began back in 2009 and today the USPS has announced they will in fact be issuing the stamp sometime in 2014. The Harvey Milk Foundation broke the news on Facebook:
"Another advancement for LGBT, recognition for Harvey and his message of hope! Amazing news from Stuart Milk, please share widely!
"Breaking! It is official! The USPS will confirm this week that my uncle, Harvey Milk will be commemorated on a 2014 US postage stamp. Another first! My deep gratitude to everyone that supported this effort! More details including the image to come via USPS soon! "Hope Will Never Be Silent" and will be on millions of letters soon!"
As GayPolitics.com notes, Milk's stamp will be the first to feature an
openly LGBT elected official. Chucke Wolfe, President and CEO of the Gay
& Lesbian Victory Fund and Institute commented on the significance
of the USPS's decision:
"Harvey Milk's legacy is alive and well…His historic run paved the way
for a new generation of LGBT leaders who can be open and honest about
who they are, and it's encouraging to see the U.S. Postal Service
honoring his legacy of perseverance and pride today."