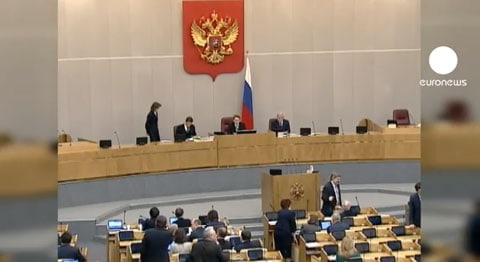 A new bill that would strip gay parents of their child custody rights will be debated in Russia this February. The law upholds the child protective values that the country's recently instated gay propaganda laws do, namely that children will be harmed psychologically in environments where "non-traditional sexual values" are on display.  
The AFP reports:
The author of the bill, Alexei Zhuravlyov of the United Russia ruling party, has cited a controversial study on gay parenting conducted in 2012 by conservative US professor Mark Regnerus.
The New Family Structures study claimed that adult children of lesbian mothers reported lower income and poorer health than children brought up by heterosexual couples.
…
In an interview with Slon.Ru last month, Mr Zhuravlyov said that "exposing" homosexuals would be easy enough once their children were in school.
"Homosexuals should not bring up children," he said. "It brings more harm than an orphanage."
Previously, parents could be stripped of their custodial rights for alcoholism, abandonment, and abuse. Clearly the care and love of one or more homosexual parents would exact the same amount of harm.
It sounds as though the law is intended not only to remove children from the "harmful" situations in which they are raised, but also to point fingers and make arrests under the propaganda law. With increases in anti-gay violence, denial of celebrity visas, and plain old arrests being made under the new law, its extent can only be imagined at this point. Who's to say what these parents might face?