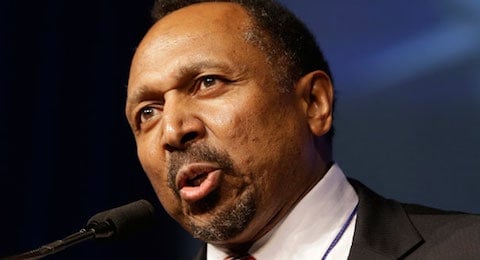 E.W. Jackson, the current Republican nominee for lieutenant governor in Virginia, said on camera that 'Don't Ask Don't Tell' was the only thing that kept the United States military in the Almighty's good graces. Now that it has been repealed and chaplains are allowed to wed gay couples, so too will God repeal his blessings.
"How in the world can we expect our military to be blessed by the hand of almighty God if we allow our military to become the equivalent of Sodom and Gomorrah? God is not pleased."
Granted, Right Wing Watch reminds us, he said that two years ago in 2011, but it's important that Virginians be reminded of his past sentiments as election season approaches. While it's entirely possible he may have had a shift in opinion despite knowing better than the pope about gay issues, it seems unlikely even when considering his protests to the contrary.
The video of his speech can be seen AFTER THE JUMP…
More news from Virginia, via David Mixner:
A new poll released today by Quinnipiac Polling has sent chills down the spines of LGBT Americans. The poll shows extremist Republican candidate Ken Cuccinelli gaining ground on Democrat Terry McAuliffe. There is a real gender gap with McAuliffe leading among women by 13 points and Cuccinelli leading among men by 6 points. 
If Republican Cuccinelli is elected he would, without question, becomes the nation's most anti-LGBT equality Governor in the country. His views on full equality for LGBT Americans are not conservative but extremist.