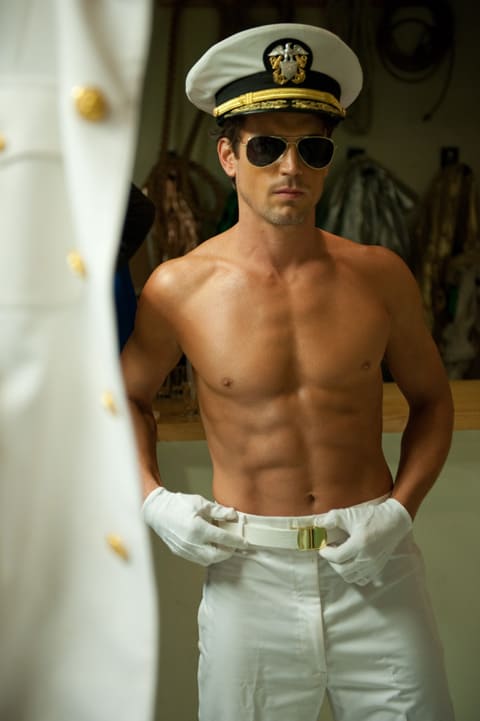 As the TV season gets into full swing, check out our new weekly guide to make sure you're catching the big premieres, crucial episodes and the stuff you won't admit you watch when no one's looking.
— Matt Bomer may be the best reason to tune in to the USA network. If you loved his work in Magic Mike, Glee and The New Normal, catch his return as Neal in White Collar's season five premiere Thursday at 9 p.m. Eastern.
More picks and clips, including a magic boyfriend, a steamy history lesson and five of TV's most influential gay stars reunite,  AFTER THE JUMP…
— How would you create the perfect boyfriend? See what the witches of American Horror Story: Coven make of their second episode "Boy Parts," Wednesday at 10 p.m. Eastern on FX. (And if you missed the premiere, check out our recap!)
— Justin, Alexandria, Dom and Bradon fight for the Project Runway season 12 crown Thursday at 9 p.m. Eastern on Lifetime. Guest judge Kerry Washington helps choose the winner after the final four collections walk the runway.
— Ever think your history class needed a better soundtrack? Don't miss the premiere of Reign 9 p.m. on the CW. Now you can watch a teenage Mary, Queen of Scots, cope with her arranged marriage to the sounds of Mumford & Sons. In addition to spilling a little Lumineers and teenage melodrama into Mary's story, keep your eyes out for the suggestion of a supernatural element to be introduced.
— Ten years since the debut of Queer Eye For the Straight Guy and there is still debate over the legacy of the groundbreaking reality show. Carson, Ted, Jai, Kyan and Thom sit down with Bravo overlord Andy Cohen for a reunion, Sunday at 9 p.m. Eastern on Bravo.
What are you watching this week?