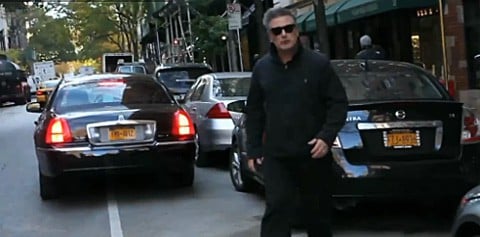 Actor and MSNBC host Alec Baldwin who came under fire in June for calling a reporter a "toxic little queen" on Twitter, has been caught on camera threatening the paparazzi and using anti-gay slurs while doing so.
TMZ, where you can watch the clip:
The video shows Baldwin –  who was with his wife and baby  — taking off in angry pursuit after the pap (not ours) … yelling, cursing and calling him a "c**ksucking f*g."
UPDATE: Baldwin tweets, claims to have said "fathead". TMZ enhances the audio, doesn't buy it.
GLAAD tweets:
"Mr. Baldwin can't lend his support for equality on paper, while degrading gay people in practice. It's clearly time Mr. Baldwin listens to the calls from so many LGBT people and allies to end this pattern of anti-gay slurs."