Alec Baldwin defends himself of charges he is a "homophobic bigot" in a new Huffington Post piece.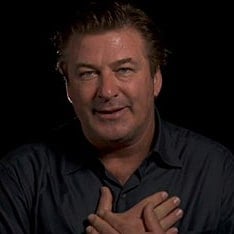 Writes Baldwin, in part:
I never used the word faggot in the tape recording being offered as evidence against me. What word is said right after the other choice word I use is unclear. But I can assure you, with complete confidence, that a direct homophobic slur (or indirect one for that matter) is not spoken. In the wake of referring to a tabloid "journalist" as a toxic queen, I would never allow myself to make that mistake again, nor would I expose my wife and family to the attendant ridicule…
He offers some praise for MSNBC's lesbian host:
I think Rachel Maddow is perhaps the single most important television journalist on the air today. And if my show does disappear, I will be grateful in so far as her good work, along with that of O'Donnell and Hayes and Sharpton and Matthews and Jansing, will not be sullied by my problem.
He says he's afraid for himself and his family because of paparazzi:
I am concerned for my family. In Bloomberg's New York, forty or fifty paparazzi are allowed to block streets, inconvenience homeowners, workers and shoppers, and make life miserable for my neighbors. Photographers have tripped and fallen on babies in strollers on my block. They have nearly struck my wife in the face with microphones. They provoke me, daily, by getting dangerously close to me with their cameras as weapons, hoping I will react.
He says he's a philanthropist:
Oddly, my foundation has donated over $11 million of a projected $15 million from revenue from my recent Capital One ads. Many people don't know that and when informed actually find it hard to believe.
Read Baldwin's full piece here.
Previously…
Gay Hairdresser Defends Alec Baldwin, Says Gays Love Him Even More Now: VIDEO [tlrd]
Alec Baldwin Suspended Two Weeks for Gay Slur [tlrd]
Alec Baldwin Uses His Gay Hairdresser to Prove He's Not a Homophobe [tlrd]
Alec Baldwin Hurls Ugly Anti-Gay Slur at Photographer on NYC Street [tlrd]