At a technology conference in San Francisco yesterday, Alec Baldwin jokingly referenced the controversy over his use of the phrase "c–ksucking fag" by doing this, the AP reports: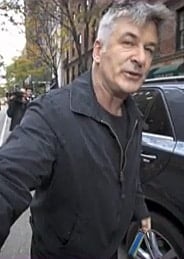 "I want you to be my lover, Matt," Baldwin told a member of his entourage after asking him to stand up. "I love you, Matt. I love you in that way."
After the packed audience's laughter died down, Baldwin added that he has loved some men more than women during his life, although never in a sexual way.
The Emmy-winning actor prefaced his moment of levity with plenty of contrition as he sought to minimize any lingering damage to his career from the fallout after a confrontation with a photographer outside his New York home last week.
Baldwin made the remarks at an appearance for ServiceSource. He added:
"If in any context in the world that we live in today, if any word is remotely offensive to people, then I'm perfectly willing to learn a different word…There is a drive-by justice to the Internet society. They indict you, convict you and hang you on the same day."