A lawsuit filed last July challenging Pennsylvania's ban on same-sex marriage will go to trial in June, the AP reports: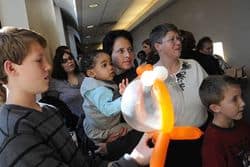 U.S. District Judge John E. Jones III told lawyers he would allow two weeks for the trial. Jones said he would set a specific date and a timetable for pretrial discovery and depositions soon. He rejected as unnecessary a defense request to delay the trial until August.
"I'm an optimist by nature," the judge told lawyers for both sides at the conclusion of an hourlong meeting.
The federal lawsuit is the first of at least six state and federal court suits challenging aspects of the 17-year-old Pennsylvania law. Civil rights lawyers filed it in July on behalf of plaintiffs who include a widow, 11 couples and one couple's two teenage daughters.
(image post-gazette)