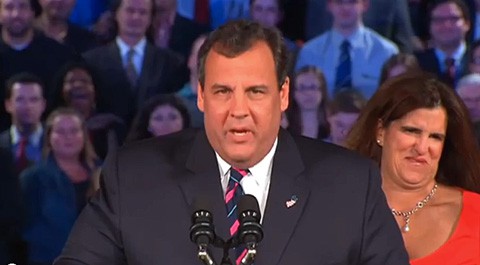 New Jersey Governor Chris Christie easily defeated Democrat Barbara Buono to win reelection yesterday, setting him up for a run at the presidency in 2016.
Mr. Christie declared that his decisive win should be a lesson for the nation's broken political system and his feuding party: In a state where Democrats outnumber Republicans by over 700,000, Mr. Christie won a majority of the votes of women and Hispanics and made impressive inroads among younger voters and blacks — groups that Republicans nationally have struggled to attract.
The governor prevailed despite holding positions contrary to those of many New Jersey voters on several key issues, including same-sex marriage, abortion rights and the minimum wage, and despite an economic recovery that has trailed the rest of the country.
Watch his victory speech if you missed it, AFTER THE JUMP…