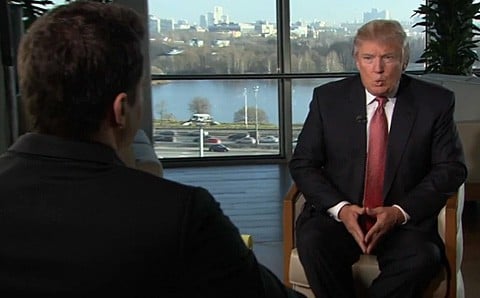 Miss Universe host and MSNBC anchor Thomas Roberts spoke to Donald Trump in an interview conducted prior to the Miss Universe pageant on Saturday, asking Trump why he chose to go to Moscow for the pageant.
Said Trump:
"When we did it we didn't know this was such a controversy. Perhaps we should have known but we didn't. And after we signed it became quite controversial….As you also know, we have a lot of gay people who work at Miss Universe, and we spoke to them, we said, 'What do you think?' And they said, 'We want to go. We want to show our stuff.' And I like that attitude.'"
Roberts also asked Trump about his views on marriage equality, which have not changed:
"Well, I think I'm evolving, and I think I'm a very fair person, but I have been for traditional marriage….I am for traditional marriage. I am for a marriage between a man and a woman. I've been that for, that's the way…can it change? I don't know. But my stance right now is traditional marriage."
Watch, AFTER THE JUMP…