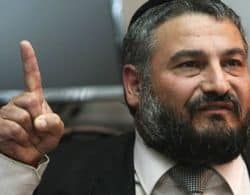 An Israeli mayor is apparently taking a page out of former Iranian President Mahmoud Ahmadinejad's playbook with his recent assertion that there are no homosexuals in his city. The Times of Israel reports that Moshe Abutbul, the newly reelected haredi Orthodox mayor of Beit Shemesh, made the claim in an Israeli talk show interview:
In a Friday interview on Channel 10, Abutbul, when asked about the presence of homosexuals in the city, said that "we have no such things…Thank God this city is holy and pure." The mayor said that he "was not involved" in the issue, and it was up to the Health Ministry and the police to "take care of them."
Unsurprisingly, the comment set off a firestorm among current and former Beit Shemesh residents:
"There are hundreds of gay men and women in Beit Shemesh and it saddens me that he thinks we should be treated by the Health Ministry and the police," said Segev Israel Afriat, a resident of the city. […]
Elinor Sidi, director of the Jerusalem Open House for Pride and Tolerance, and former Beit Shemesh resident, added: "As one who was born and raised in Beit Shemesh, I can only lament the transformation the city has undergone in the past couple of years. Xenophobia, ignorance, homophobia and racism have replaced the warming of hearts which once characterized Beit Shemesh."
"I studied at a religious school in a tolerant atmosphere which embraced the other instead of rejecting him. Abutbul's Judaism is not the Judaism I learned as a child. Beit Shemesh had gay residents long before Abutbul."
 The Association of Gays, Lesbians, Bisexuals and Transgendered in Israel has also filed a complaint against Abutbul, with the association's chairman, Shai Doitsh, saying the mayor's comment "constitutes incitement, urging attacks on and a show of contempt for the LGBT community."