The Senegalese government has arrested five "suspected lesbians", the AP reports: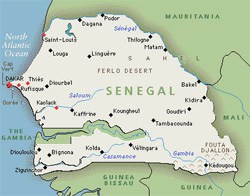 The five women were detained early Monday morning during a birthday party at a restaurant in Dakar's Yoff district that has been described in the Senegalese press as a meeting point for gay men and lesbians, said Ndeye Kebe, president of the activist group Women's Smile.
The women cannot afford a lawyer though they are expected to appear in court on Tuesday, the AP adds:
Senegal's penal code calls for prison sentences of up to five years and fines of up to $3,000 for committing "an improper or unnatural act with a person of the same sex." Since 2008, the Muslim-majority country has been gripped by what Human Rights Watch describes as an anti-gay "moral panic," with arrests and mob justice on the rise.
One of the women arrested is an assistant director at Women's Smile, a Senegalese group that advocates for LGBT rights.
Here's the report in Senegalese media.
Last June, President Obama visited Senegal on a trip to Africa and spoke out about the country's criminalization of homosexuality.
Said Obama: "People should be treated equally."
President Mack Sall of Senegal replied: "We are still not ready to decriminalize homosexuality. I've already said it in the past. We're still not ready to change the law. This does not mean that we are all homophobic."
That position was echoed by Senegal's Justice Minister Sidiki Kaba in September.
Last week, the European Court of Human Rights ruled that persecuted gays in Uganda, Senegal, and Sierra Leone have grounds for asylum in the European Union.