Former NFL quarterback Kordell Stewart is responding after his ex-wife, Real Housewives of Atlanta cast member Porsha Stewart, dragged out her divorce on the show's season premiere last night.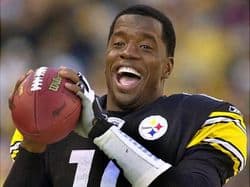 Said Porsha on the show:
"There were definitely times in the marriage that Kordell didn't necessarily want me, physically, and that made me wonder, what does he want?" she admitted. "When we first got together, I asked him about rumors of him being gay, because family members were bringing it up to me and friends were asking me about it, and he explained it away … I didn't question whether he was gay or not because someone else said it. Any reasons that I questioned it were things I had experienced or seen."
Stars of Reality TV reports:
When a fan on Twitter  asked Kordell if he was gay, he responded no. Actually, his response was "hell naw!" And after his name became a trending topic on the social site, Kordell tweeted that fans of the show were running their mouths off about things they knew nothing about.