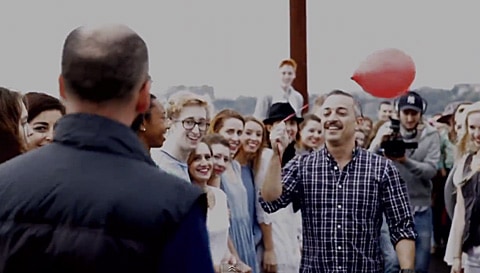 Lance writes us:
A few weeks ago my bf of seven years did an amazing thing. for months without me suspecting he organized and produced a flash mob proposal. Now, I know flash mobs have been done before but never have i seen one as completely over the top as the one he put together.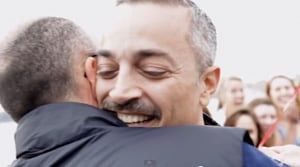 Held at The Frying Pan on Manhattan's west side and consisting of over ninety dancers from Pace University and Marymount Manhattan College performing an amazing dance performance choreographed to "99 Red Balloons" and culminating in him asking me to marry him. It was a day i will never forget!
My bf is a greek cypriot who recently became an American citizen and feels that as gay men it's our responsibly to live our lives as freely as possible in the hope that as we become more visible it will effect change and dispel negative stereotypes. Marriage equality is illegal in Cyprus and the young gay men and women in that country struggle every day to overcome cultural prejudices as well as social taboos in their search for acceptance. It's with this same passion that he organized this very public display of love and devotion.
Watch, AFTER THE JUMP…
Don't miss our other recent gay wedding and marriage proposal videos…
Gay Marriage Proposal of the Day: IL Rep. Sam Yingling and Lowell Jaffe [tlrd]
Gay Wedding Video of the Day: Donavan and Ricardo [tlrd]
Gay Wedding Video of the Day: Shannon and Sandy [tlrd]
Gay Marriage Proposal of the Day: Jeanne and Alissa[tlrd]
Gay Marriage Proposal of the Day: Will and RJ [tlrd]