Alysha Roberto and her wife Rebecca Sue Romero are the first gay married couple to attempt a divorce in the state of Kentucky, the Courier Journal reports: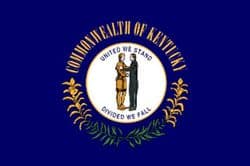 Family Court judges and divorce lawyers say Alysha's petition — filed Oct. 25 in Jefferson Family Court — is the state's first involving a same-sex couple who were married in another state where same-sex marriages are legal, and want to end their marriage in Kentucky.
Alysha's lawyer, Louis Waterman, said they should have the right to divorce here, rather than endure the disruption and expense of going back to Massachusetts, where they were wed, and living there for one year to meet that state's residency requirement.
The court is expected to dismiss the case because of Kentucky laws banning same-sex marriage and its recognition. Waterman says he'll appeal the case and challenge the state's anti-gay constitutional amendment.