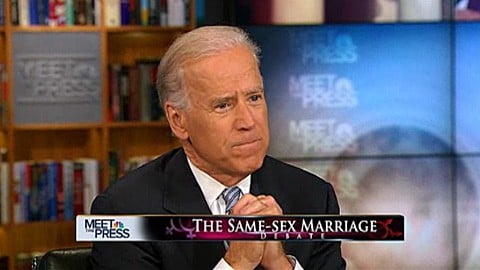 Mark Halperin and John Heilemann's new book Double Down, about the 2012 campaign promises to be as much of a page-turner as Game Change, their previous book which chronicles the behind-the-scenes action during the 2008 election.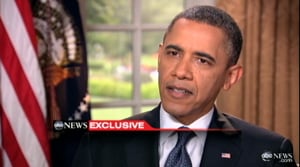 Yesterday, Steve reported a tidbit about Michele Bachmann declaring "I'm a loser" after a disastrous Iowa campaign speech, but here's another that will probably be of interest, describing what went on before Obama's "evolution" on marriage equality, which as you may recall, resulted in a daytime TV 'breaking news' interruption.
If you'll recall, there was much debate about whether Obama's 'evolution' was prompted by a  push from Joe Biden, which took place days before, on a Meet The Press segment.
Now we're finding out the answer, the Huffington Post reports: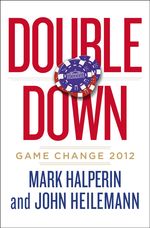 Biden was a veteran of "Meet The Press." Still, the book reports that Obama advisers were worried that he would speak out of turn, and over several days, they spent "upwards of twelve hours" drilling him on a slate campaign issues.
But there was one they left out — gay marriage.
On Friday, May 4, 2012, Biden sat down to tape the interview, and said, "I am the vice president of the United States of America; the president sets the policy." He added, "I am absolutely comfortable with the fact that men marrying men, women marrying women, and heterosexual men and women marrying one another are entitled to the same exact rights, all the civil rights, all the civil liberties."
Biden didn't think he had made news. But Plouffe was mad.
"WHAT THE F–K? was his reaction when he took a look at the transcript. We were going to do this! In the next two weeks! As a f–king surprise! HOW CAN THIS HAVE HAPPENED?!" the authors write.
Obama had wanted to "evolve" on gay marriage before Election Day, the book reports, and he was planning to come out in favor the next time he was asked.
Plouffe and White House Communications Director Dan Pfeiffer had urged him to state his position in a better venue than a simple press conference.
"Find the time and moment soon rather than later," Obama told them.
The book goes on to say that Biden apologized to Obama shortly before that breaking news announcement when he had finally come to understand why everyone was so angry at him.