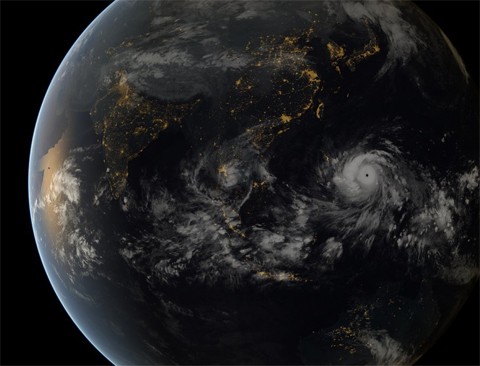 Here's a mindblowing satellite image of Typhoon Haiyan. It's barreling across the Phillippines toward Vietnam right now, the Guardian reports:
Typhoon Haiyan has hit the Philippines with winds of 195mph, with experts saying "catastrophic damage" will result from what is predicted to be the strongest tropical cyclone to make landfall in recorded history.
Thousands of people have been evacuated and thousands more have fled their homes as the category five storm sent waves as high as 5m (15ft) ashore on the islands of Leyte and Samar in the central Philippines, overturning powerlines and leaving streets knee-deep in water.
Haiyan – the Philippines' 25th typhoon so far this year – is expected to barrel through the archipelago close to Cebu, the nation's second-largest city and home to around 2.5 million people.
Watch an update on the storm, AFTER THE JUMP…
Check out some intense satellite images of the storm on the CIMSS blog.