Harris County, where Houston, Texas is located, is set to announce a sweeping new policy protecting LGBTI inmates, the AP reports: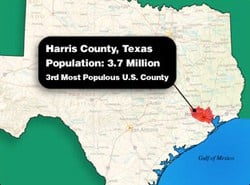 The new policy, which Harris County Sheriff Adrian Garcia's office believes to be one of the most comprehensive in the country, states "discrimination or harassment of any kind based on sexual orientation or gender identity is strictly prohibited," and outlines how such inmates will be searched, booked and housed, according to a copy of the policy obtained by The Associated Press ahead of an official announcement Thursday.
The policy also covers intersex inmates, defined as people born with sex chromosomes or reproductive systems that are not considered standard.
Houston has the third-largest county jail in the U.S., after Los Angeles and Chicago's Cook County, and processes some 125,000 inmates annually.
The policy went into effect on Wednesday. The AP adds that "the jail currently has about 8,900 inmates and at least 250 of them, or 2.8 percent, identify themselves as lesbian, gay bisexual or transgender."