Governor Pat Quinn will sign his state's marriage equality today, making Illinois the 16th state in the union (with Washington D.C.) to have marriage equality.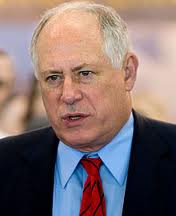 More than 3,000 people are expected at the University of Illinois Chicago Forum for the signing, which will take place at 3:30 pm CT this afternoon.
Said Quinn: "I look forward to signing this landmark legislation on November 20 and celebrating a big step forward with the people of Illinois."
Couples are eagerly anticipating the opportunity to marry in the Land of Lincoln, the Chicago Tribune reports:
Local wedding planners already are anticipating a possible gay wedding boom after June 1, when the law takes effect. Anthony Navarro, a Lakeview-based wedding and event planner, has been planning ceremonies for same-sex couples in the region for more than a decade. He said he looks forward to having the appropriate language to describe events that he has described for years as "commitment ceremonies" or "civil union ceremonies."
Quinn will sign the bill today on the desk used by Abraham Lincoln to write his inaugural address.