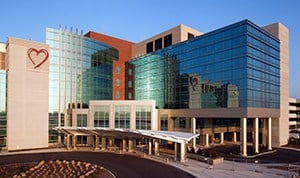 An Indianapolis woman, Sarah Bray, 34, has been kept from seeing her partner after her partner suffered from a drug overdose in an apparent suicide attempt, according to The Indianapolis Star. Bray's partner, whose name is being withheld due to the nature of her hospitalization, is currently unconscious and is recovering at Franciscan St. Francis Health-Indianapolis. Bray's partner was brought there Wednesday after Bray's two sons (ages 10 and 12 respectively) discovered Bray's partner on the bathroom floor, foaming at the mouth at 6 AM. Bray, an employee of St. Francis, then took her partner to the hospital and shortly after called her partner's mother to inform her of the news. Unfortunately, as soon as her partner's mother arrived, Bray and her two sons were told they could no longer visit with Bray's partner. The situation has not abated:
Bray said she hasn't been allowed to see her partner since, claiming that the hospital ­sided with her partner's mother's wishes to keep her away. Bray said her partner's mother does not support their relationship, which is why the mother didn't want her in the room. When reached by phone Wednesday for comment, the patient's mother said, "We're not interested," and hung up.
"She's playing with the wrong person," Bray said, "because I know that I have rights, and I'm going to fight for those rights no matter what."
Many, including GetEqual Indiana spokesman David Stevens, are calling this "a clear violation of LGBT hospital visitation rights," citing President Obama's 2010 directive that granted "hospital visitation rights to same-sex partners at hospitals that accept Medicare and Medicaid — even in states such as Indiana that don't recognize same-sex partnerships." Spurring on even more questions is the fact that the burden of proof for banning someone from visiting a patient, even if the request comes from a family member or an official next-of-kin representative, is fairly high:
A next-of-kin representative must make a strong argument to ban someone from ­visiting a patient, such as concerns over disruption or harm to the patient.
"You'd have to have a good reason," said Jennifer A. Drobac, a professor of law at the Indiana University Robert H. ­McKin­ney School of Law in Indianapolis. "It would have to boil down to a medically necessary decision."
Banning someone simply because of animosity or disapproval of an individual — which Bray says is happening in her partner's case — isn't a strong enough argument, Drobac said.
"That clearly is discrimination," she said.
Joe Stuteville, a hospital spokesman, acknowledged that the hospital usually gives the upper hand to a patient's next-of-kin representative to ­determine who can or can't visit. "Without having the specifics on this case," he said, "I can only say we do not discriminate. We understand end-of-life issues."
Bray has been together with her partner since May but has known her for the past 13 years. She says the couple had made plans to marry in nearby Iowa and picked out wedding rings just this past Tuesday.
(Photo via Facebook)