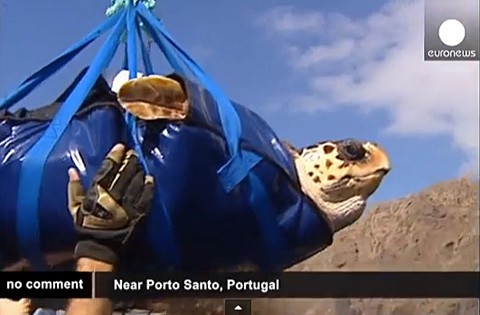 Touché and Daisy, two Loggerhead sea turtles who spent more than 30 years in captivity, two of them in rehabilitation at the Lisbon Oceanarium, were released back into the sea this week.
Loggerheads are an endangered species, protected by the International Union for the Conservation of Nature.
Touché, a 40-year-old turtle, was 90 pounds when brought to the Oceanarium and today is 142, while Daisy was 75 pounds and today is 91. They had been living in a restaurant aquarium after being separately caught in fishing line off the Portuguese and Moroccan coasts, respectively. The Oceanarium's rehabilitation process included weaning them off both a hand-feeding routine to which they had become accustomed and also the constant presence of people.
The turtles, which are the world's largest hard-shelled turtle, have a life expectancy of 80 years. Bravo!
Watch, AFTER THE JUMP…