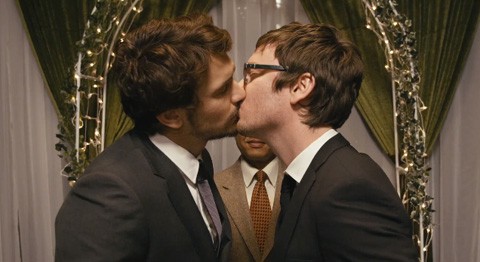 James Franco talks about his attraction to gay subject matter in a new interview with the Daily Beast:
It's not like it's my mission to tell the stories of as many gay men as possible, although in some cases, I think it is the point. In Milk, the point is to show one of the great fighters for equal rights for the gay community, so I was happy to do that. With characters like Allen Ginsberg [in Howl], my love for him started with his work when I was a teenager. So his sexuality is secondary to me. It's an important aspect of who he was and his character, but it wasn't like, "Yes, I want to play another gay role," it was more, "Yes, I'd love to play another one of my heroes."
He adds:
Once I choose a subject, if that's part of who they are and their character, I'm not going to shy away from portraying that. And of course I'm for equal rights and will do whatever I can do to help make that happen. But I feel like because I've done more gay characters, gay scenes, or gay projects than most straight actors, people see it as some sort of mission. It's more of a case-by-case basis, and just trying to capture figures that I love. I guess that a lot of the figures that I love were gay.