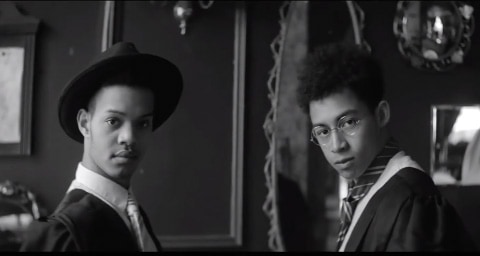 British hip-hop duo Rizzle Kicks speak out against homophobia and misogyny in an interview with the BBC.
"I can't listen to hip-hop at the moment. I really struggle. The stuff I'm hearing in the mainstream… it's overly-misogynistic and it's still homophobic. It does my head in…turns of phrases take a while to die out…but when it's vicious, I don't understand why you'd bother. Think of something more inventive to say. It's a cultural thing that needs to piss off, basically."
He adds: "I think it's even worse for women. I had an ex-girlfriend who was seriously up on her hip-hop, and I played her this song Clique with Jay-Z, Kanye and Big Sean. The first lyric is 'I tell a bad bitch do whatever I say'. And she just turned around and said, 'what's that?' I don't think we know any women – smart women, who you'd want to be friends with, that would proclaim themselves as a bad bitch. If anything, the only women I've seen saying 'bad bitch' seem pretty insecure."
Watch the lyric video for Rizzle Kicks "Skip to the Good Bit" which samples a very familiar track, AFTER THE JUMP…