House Speaker John Boehner (R-OH) was asked today by the Washington Blade's Chris Johnson about whether he'll allow a vote on the Employment Non-Discrimination Act, which was passed in an historic Senate vote last week.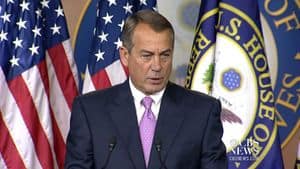 Said Boehner:
"I am opposed to discrimination of any kind, in the workplace and any place else. But I think this legislation that I've dealt with as chairman of The Education & The Workforce Committee…is unnecessary and would provide a basis for frivolous lawsuits. People are already protected in the workplace. I'm opposed to continuing this. Listen, I understand people have differing opinions on this issue, and I respect those opinions. But as someone who's worked in the employment law area for all my years in the State House and all my years here, I see no basis or no need for this legislation."
Currently, people can still be fired simply for being gay in 29 states.