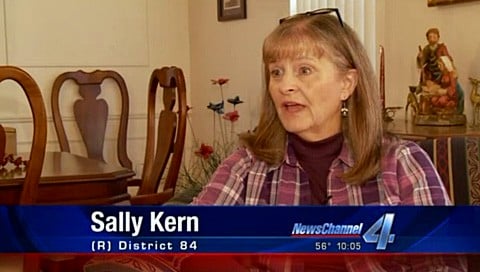 The state of Oklahoma saw its third same-sex marriage on Thursday night on native American land when Darren Black Bear, a member of the Arapaho Cheyenne tribe, married his partner of 9 years, Jason Pickel. They were married by Darren's father, who marched in the civil rights marches with MLK Jr.
The ceremonies are sending the state's most well-known bigots into a tizzy.
Lawmaker Sally "gays are worse than terrorists" Kern resurfaced to weigh in:
"I find it kind of sad that this tribe is not willing to recognize what 75 percent of the voters of Oklahoma declared years ago, that marriage is a union between one man and one woman. Those of us who are Christians, who believe the Bible, are we going to have to give that up to satisfy the minority group that wants to redefine marriage…They can love whomever they want, there's no laws right now that prevents two people of the same sex from living together.
Watch KFOR's report on the marriage, AFTER THE JUMP…